As we enter Q2 of 2022, there have been some interesting developments in UK recruitment. Instead of some of the more consistent patterns we've been used to this year, April's idibu Index proves things have really been shaken up…
We recently broadcast a webinar on how to improve your application process. We knew this was an important topic for recruiters everywhere right now, but our UK idibu Index stats for April suggest that a slick application process could be even more crucial than ever.
Here's more on that and other highlights from the last few weeks of idibu's UK job posting and application data.
UK unemployment drops, but vacancies increase
Despite seeing a significant rise towards the end of the month in the number of UK jobs posted on idibu, we also saw a week-on-week drop in the total number of applications. The last week of April showed an 18% increase in the total volume of jobs posted when compared to the previous week. Whilst, in comparison, applications dropped each week throughout April by an average of 5.1%.
In our recent webinar with CV Library, we shared that there are currently approximately 1.3m live vacancies across the country. This coincides with a post-pandemic dip in the UK's unemployment rate as an influx of companies ramp up their hiring activity. Our idibu Index figures back up these claims, suggesting an imminent need for recruiters to revisit their application processes to stay ahead of the game.
Building & Construction job applications overtake IT for the first time
Further altering the course this month were our industry findings. IT is still the sector with by far the most overall activity for both job posts and applications in the UK, but IT experienced a huge drop mid-April. Normally IT recruitment activity outnumbers all other industries each month, but the third week of April showed an exception to the rule and we saw the number of Building and Construction applications exceed the number in IT for the first time.
By the last week of the month, IT was swiftly climbing and took back pole position, but it was interesting to see this brief turn of events and the Building and Construction sector experiencing the most activity, even if for just a short period.
Downfalls in applications were consistent across a number of industries last month. Manufacturing and Production dipped suddenly in week three and continued to fall into the end of April. Admin and Secretarial applications also plummeted mid-month but started to rise again by week four. And for Retail, applications dropped to some of the lowest numbers we've seen this year but crept up again as the month progressed.
In contrast, Medical & Nursing and Legal were both sectors which saw applications escalating throughout April.
Looking specifically at jobs posted throughout April by sector, stand out peaks and troughs included substantial dips for Call Centre/Customer Service positions, as well as for Banking, Insurance, Retail and Graduate roles. Meanwhile we reported much higher numbers of job posts for both the Automotive industry and Education & Training this month when compared with March's data.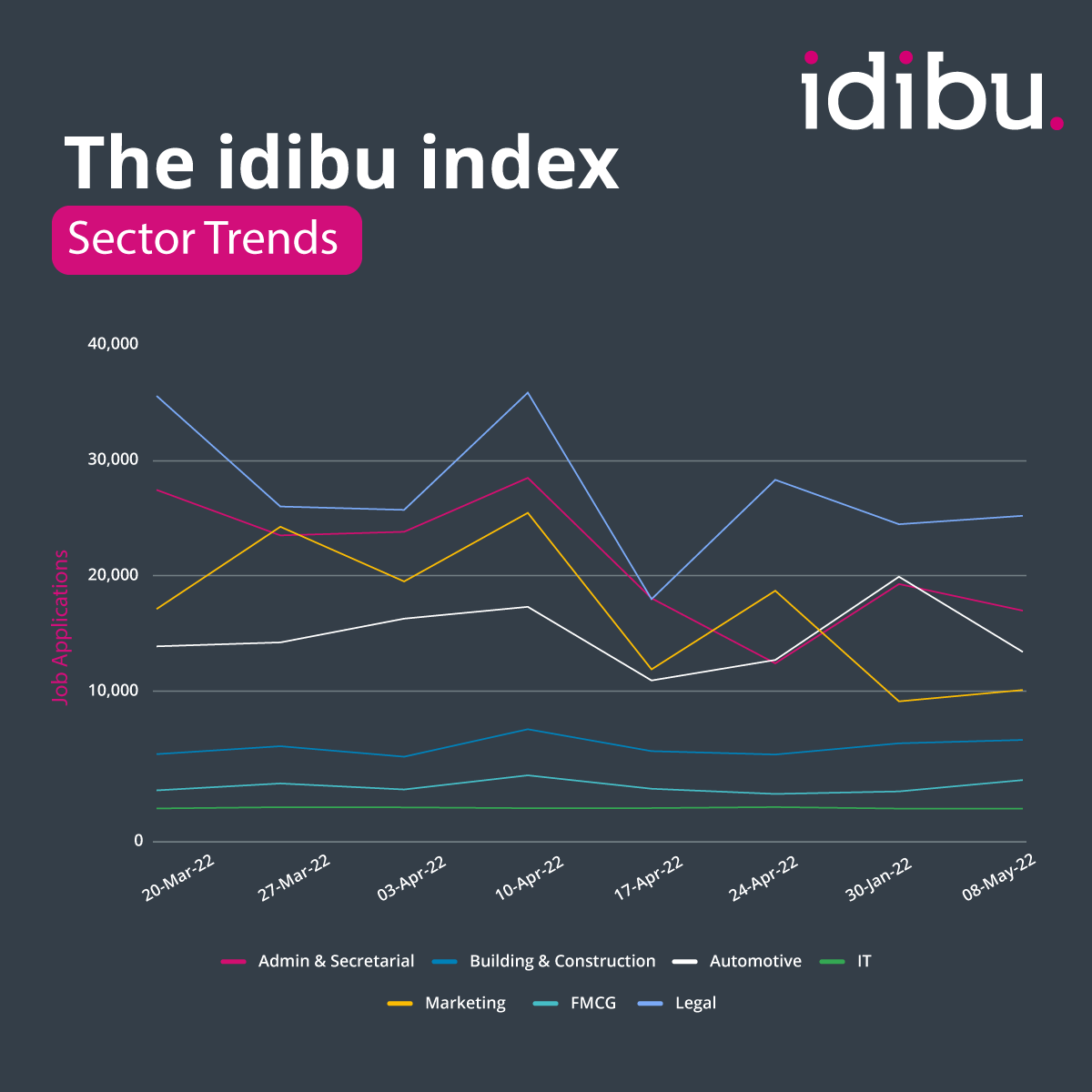 Southeast jobs take off
Remaining at the top of the regional list for April was the Southeast. In fact, we noted a staggering regional increase of around 87.9% in the number of jobs posted from week two April to week four.
Yorkshire also showed a healthy increase in the number of posts between the middle and end of the month. East Anglia also illustrated a really steady upturn and had hit its highest number of job posts by the last week.
But these three regions, despite showing the most dramatic changes, weren't the only ones to have experienced job surges. Almost all regions showed rises towards the end of April (with the exception of Wales and Northern Ireland) and we're pleased to confirm an average 67% upturn in the number of UK jobs posted during week four of April, when compared to week three.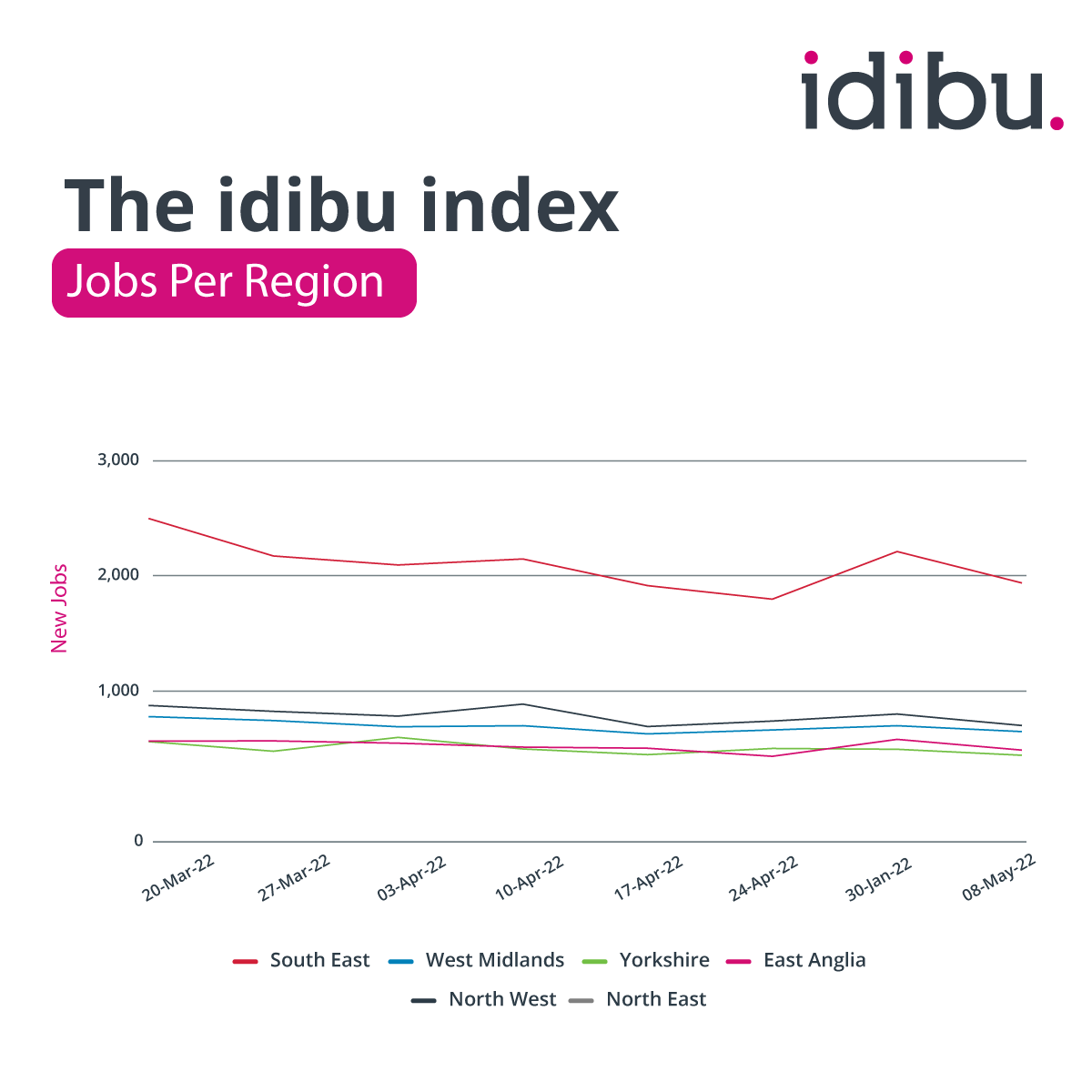 So, a few anomalies for April, that prove the unpredictability of recruitment. We're eagerly keeping tabs on May's data already to see what the month ahead brings.
If you want to stay on top of the latest recruitment trends - even those you may not expect - don't forget that idibu can help. Much more than a job multi-poster, we're your one-stop shop for improving your end-to-end recruitment process. With tools for boosting your efficiency, plus insights and advice, all topped off with 5* customer care, you can find out more by booking a demo.