Last month, we reported how April's idibu Index stats had really taken a turn. Far from the more consistent patterns we'd witnessed for Q1 of 2022, some surprising developments emerged during month four, and we saw the number of jobs increase and applications drop.
We also saw a change in the number of applications per sector when Building & Construction briefly took first place ahead of IT for the first time. Other clear changes in application numbers included dips for Manufacturing & Production, Admin & Secretarial and Retail, but also increases for Medical & Nursing and Legal.
So, for May, we were keen to see whether these anomalies continued or whether figures crept back towards more familiar trends.
Let's take a look at what our idibu Index recorded for May...
Firstly, the amount of overall recruitment activity was slightly down this month – perhaps due to the time of year. A bank holiday weekend, plus a traditionally popular time for breaks may have contributed.
But it's far from doom and gloom for recruitment and worth noting that the overall decreases were slight.
IT's back topping the chart for job application numbers
Last month's spike in Building & Construction applications didn't last. In fact, the month of May showed consistently lower stats for the sector than we'd previously seen. Manufacturing and Production application figures had also reduced, but were less consistent than Building & Construction, showing a steady and continual decrease in applications as the month progressed. Downward curves were also noted for Sales, Marketing and the Automotive sector.
But back in first place across the whole month and for both job ad posts and applications was the thriving IT sector.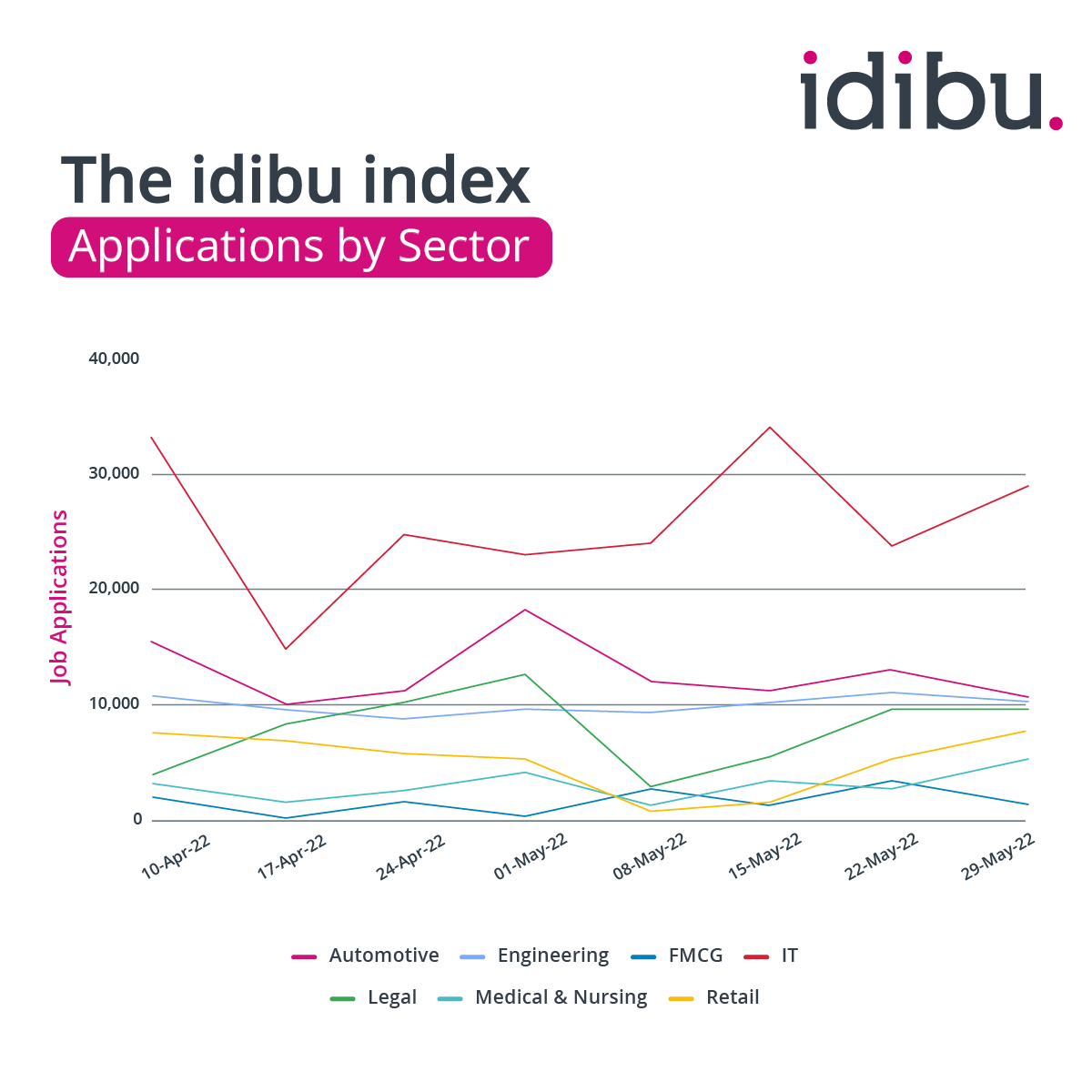 It was a positive picture for other sectors too, including Retail which saw jobs and applications picking up considerably during the second half of May. Legal, for which we'd already reported great application numbers throughout April, continued to rise, with a peak in the middle of the month almost 70% greater than April's best application stats.
Jobs in the Southeast and Northern Ireland increase
Looking at regional activity, there were no enormous changes to the areas experiencing the most applications. Topping the chart was the Southeast, followed by the Northwest and the West Midlands.
The only slight month-on-month differences noted for individual sectors was a dip for the Southeast at the start of May, which then increased again between weeks three and five. And, the Northwest, despite having the second highest number of job applications in the UK, did experience a more substantial fall in the number of applications than most other regions when compared with the previous month.
Job post numbers on the other hand rose in May for the Southeast and also Northern Ireland. Wales was another region with stronger job post numbers for the month when compared with April.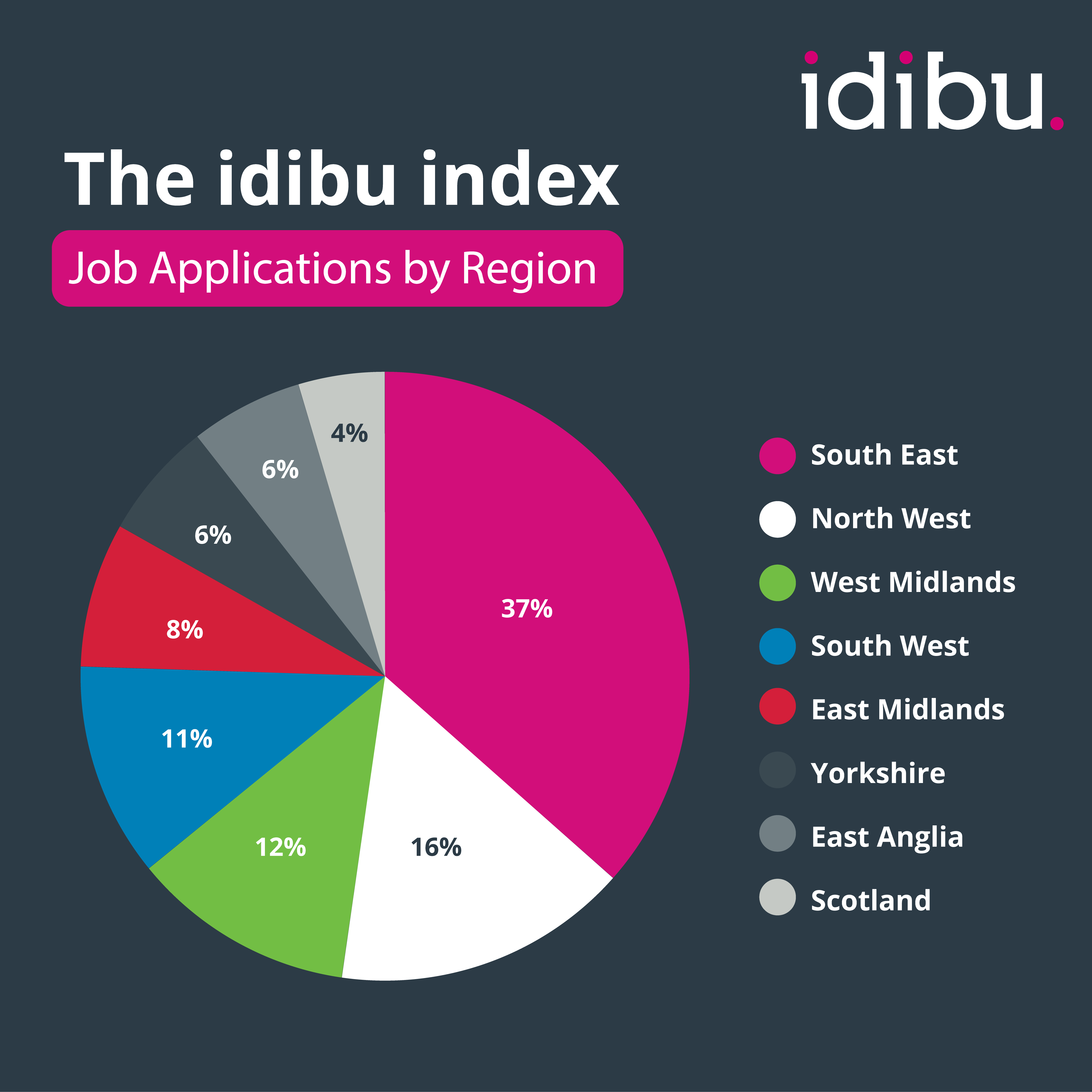 Contract roles rise in the Northeast
Looking at job types, permanent jobs were up with particularly sharp increases in the number of perm roles in both the East Midlands and Northern Ireland.
In contrast, the number of both contract and temp jobs posted were down in the East Midlands, West Midlands and Wales. Whereas the Northeast showed a significant increase in contract roles.
So, in many ways a much more predictable month than April for both job posts and applications. But if our idibu Index has taught us anything, it's that nothing is guaranteed. Take a look back at previous idibu Index updates here. And stay tuned for our June update in just a few weeks.