With Q2 of 2022 well underway, it's time to check in on the most recent developments for jobs in Australia and New Zealand.
We've gathered stats from our own idibu Index - the data recorded from all idibu job ad posts and applications - and have brought them together with SEEK's. SEEK is a market-leading online employment marketplace, so our findings combined provide a broad overview of the region's activity over the last month and as we enter Q2 of the year.
Australia and New Zealand job posts continue to climb
Last month we reported significant increases in job post activity for March in ANZ and that upward curve has most definitely continued into April. As we began the second quarter of 2022, the number of job ads posted for Australia and New Zealand were up 2.9% since last month and by an impressive 22.5% when compared with April last year. When looking at the percentage increase of jobs posted between April 2019 and 2022, the growth is quite staggering, showing an even larger surge of 59.7%.
These strong, unwavering figures are great news for the region's economy. The increases can be seen almost completely across the board and span most industries during the 2019-2022 period. Those with the most remarkable upturns include Manufacturing, Transport and Logistics (107%), Community Services & Development (121.6%) and Hospitality & Tourism which has shown the largest escalation of 171.1%.
Administration and Office jobs boom in Australia and New Zealand
But rather than a steady rise in job ad volume over the past few years, our data indicates a more dramatic boom for some industries over the past year. The areas showing some of the biggest climbs in job ad volume when compared with April 2021 include Retail and Consumer products (31.8%), Education and Training (34.1%) and Administration & Office Support (34.4%).
The lowest recorded rise in job ad volume was in Information & Communication Technology, but we can still report a healthy 12.5% upswing for the number of jobs posted annually for this sector.
Jobs in Accounting and Education take a dive
At the other end of the scale, one of the few industries to show a drop in job posting activity is Accounting. It's a comparatively low decrease at -0.9% for the period 2019-2022, and of - 0.5% when comparing March '22 with April. But it's not all doom and gloom for Accounting. There has been a 19.1% rise in the number of job posts in the industry over the past year, so overall, some great stats - just one to keep an eye on over the coming months.
Other sectors that have shown a fall in job ad posts in the past weeks include Trade and Services (-2%), Hospitality and Tourism (-0.5%) and Education and Training (-0.7%). Again, these are all relatively unalarming dips which we hope will be temporary, as statistics recorded for the past year and since 2019 suggest general upsurges in job vacancies for all these industries across Australia and New Zealand.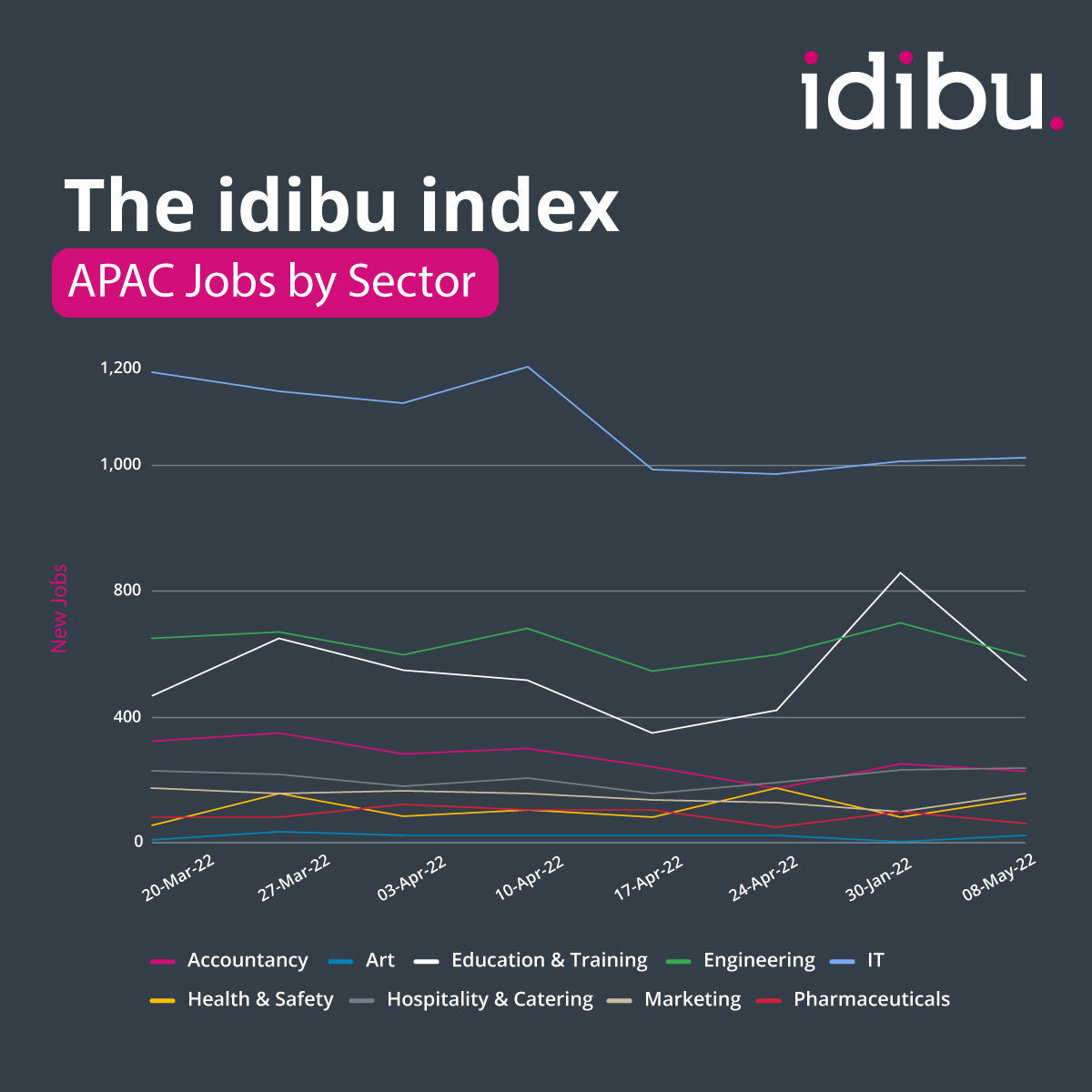 Australia and New Zealand job applications drop
It's quite a different story when looking at applications. Per job ad, applications are down 7.6% on last month. And, more notably, have dropped by 47% in comparison to April 2019.
Some of the most stand-out dips can be seen in Call Centre and Customer Service, Manufacturing & Production, Hospitality & Catering, Insurance, Consultancy and Financial Services. Applications for Graduate roles have also been on a downward curve for the past couple of months now.
With a steady unemployment rate of 4% reported for Australia, and New Zealand's unemployment rate being at an all-time low of 3.2%, our findings for April 2022 align and suggest a surge in job openings, but a drop in candidates.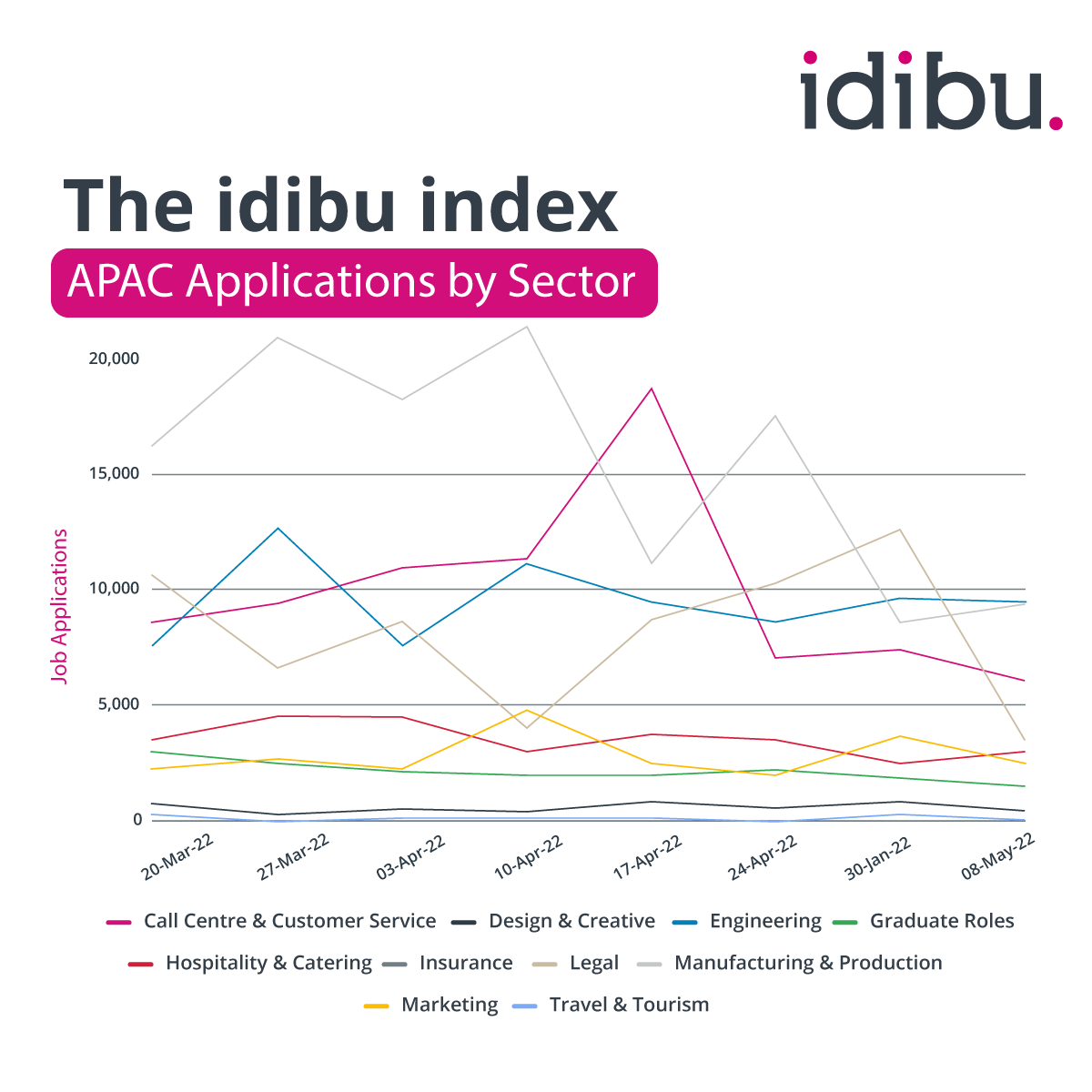 Attract more candidates
We recently hosted a webinar on the topic of candidate attraction, and specifically on improving your application process. With a lack of job seekers on the ANZ market currently, and around 90% of applicants reportedly dropping off before they reach the end of the application process, there's never been a better time to revisit your application journey.
We're here to help you improve every element of your recruiting. From candidate attraction and boosting efficiency, to enhancing your brand and of course keeping you up to date with all the latest market intel. With lots going on in the Australian and New Zealand job market right now, be sure to check in again next month to stay up to date with all the latest regional job post and application developments.