Did you know we record monthly statistics for all job posts and applications in idibu? The data we pull together is what we call our idibu Index. And it's giving us some really useful insight into the ANZ employment market throughout 2022.
As we're now at the halfway point of the year, will recent trends continue, or will new patterns emerge that mean the remainder of the year is less predictable than we thought for jobs in Australia and New Zealand?
Combining our idibu Index with data published by employment marketplace, SEEK, we're pleased to bring you the latest developments in ANZ jobs and applications.
Positive news for ANZ recruiters
Earlier this year, we reported a rise in job ads, in contrast to a drop in applications, suggesting a possible rough ride ahead for recruiters.
But May saw the tables start to turn and we can share that June has seen some of those changes continue.
For the past couple of months there's been an overall increase in the number of both Australia and New Zealand jobs and applications across the region – really promising for the economy and recruiters alike.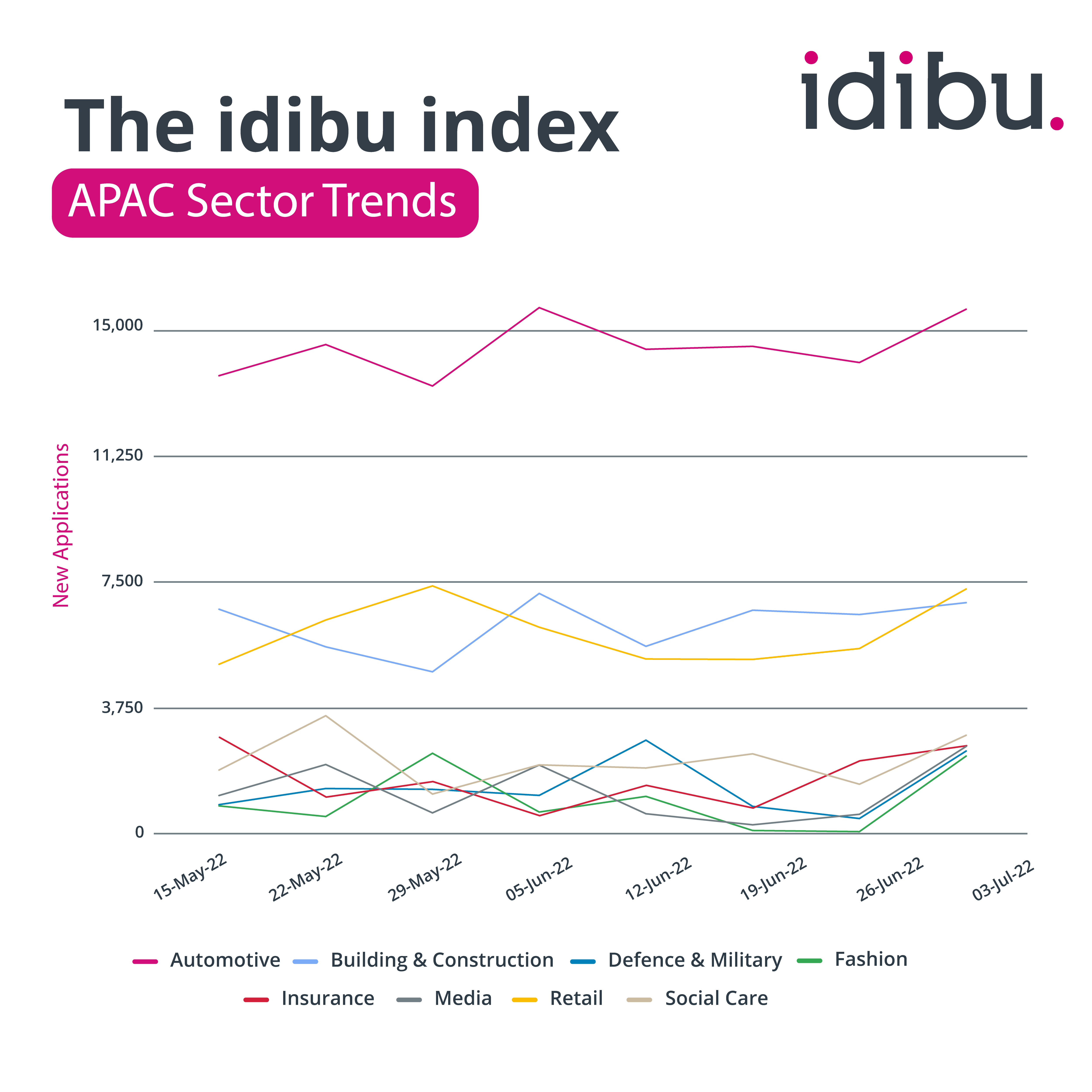 Less candidates in Australia than New Zealand?
Looking firstly at the number of job ads posted, we've seen a healthy uplift of 17% when looking at June 2022's figures against those from June 2021. And we've recorded an even more significant increase of 36% for the region when comparing this month with last.
For applications there's a continuing upward curve too. April to May 2022's upturn was 14%, but this month that's almost doubled and when compared with May, June has seen an exciting 31% increase in the number of job applications in Australia and New Zealand.
This month's data did reveal though, that the rise in applications per job ad are higher in New Zealand than in Australia. Could this point towards a more candidate-rich market for New Zealand right now?
Accounting and Trades & Services top the applications chart
When looking at differences across various sectors, Accounting is yet again worthy this month of a mention for some of the highest increases in activity. Suffering a fall back in April, the specialism recovered with a 5.1% growth in vacancies for May. In June, we recorded a further 4% increase in the number of ANZ Accountancy jobs posted. Trades and Services was another area that's experienced an uplift for the past couple of months.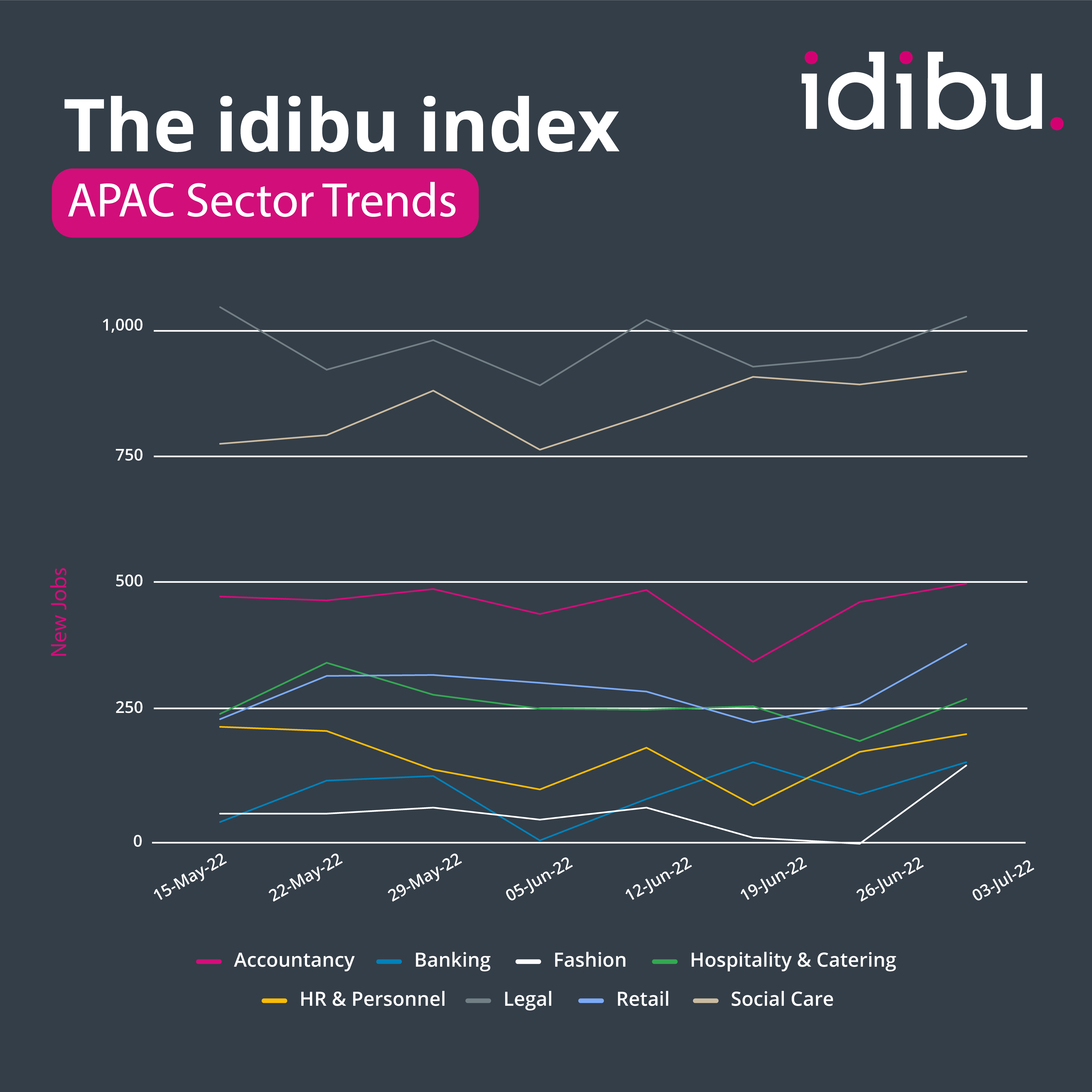 There were far fewer sectors experiencing month on month escalations for June '22. It was notably a slower month with far gentler upturns than we've been used to.
The great news though is that year-on-year stats are still extremely positive with an average of 30% more jobs being posted across all sectors when studied alongside June 2021 data.
For applications per sector, the largest increases are for Retail (43.1%), Education & Training (39.2%) and Admin & Office Support (35.3%). Last month we reported that Australia and New Zealand jobs were receiving far more applications than both the UK and USA, and we can confirm that that's still the case with ANZ roles having on average 14% more applicants per role.
Check back in with us in a few weeks for July's update. As we reach the midpoint of 2022, will our data shed any light on what may lie ahead for the second half of the year?
A leading provider of job multi-posting software, idibu's supporting lots of companies like yours to stay ahead of the game when it comes to online recruitment. Check out more of our market insights or book a demo today.