It's time to look back at the month of March for the latest insights from the APAC recruitment market. Our idibu Index looks specifically at stats from Australia and New Zealand and is based on data gained from all job posts and applications over the last month.
We've combined our data with the market-leading online employment marketplace, SEEK, for a more comprehensive view of the region's activity. Here's what we saw happening in the third month of 2022.
Jobs in Australia and New Zealand continue to rise
Still on the increase as we entered March was the total number of job posts across the region. February had shown an upward surge, but last month's posts continued to rise by an additional 5%.
Not only was there a month-on-month increase, but a significant upward trend in the count of jobs posted in comparison to March last year. A huge 32.2% upturn was recorded, which may indicate improvements across lots of markets as we recover from the pandemic. However, this percentage is higher again when compared to 2019. The difference in job ads posted between March three years ago, and 2022, is a staggering 50.7%, and as the full effects of the pandemic didn't hit until 2020, these figures may suggest a natural increase in jobs in Australia and New Zealand over the past few years.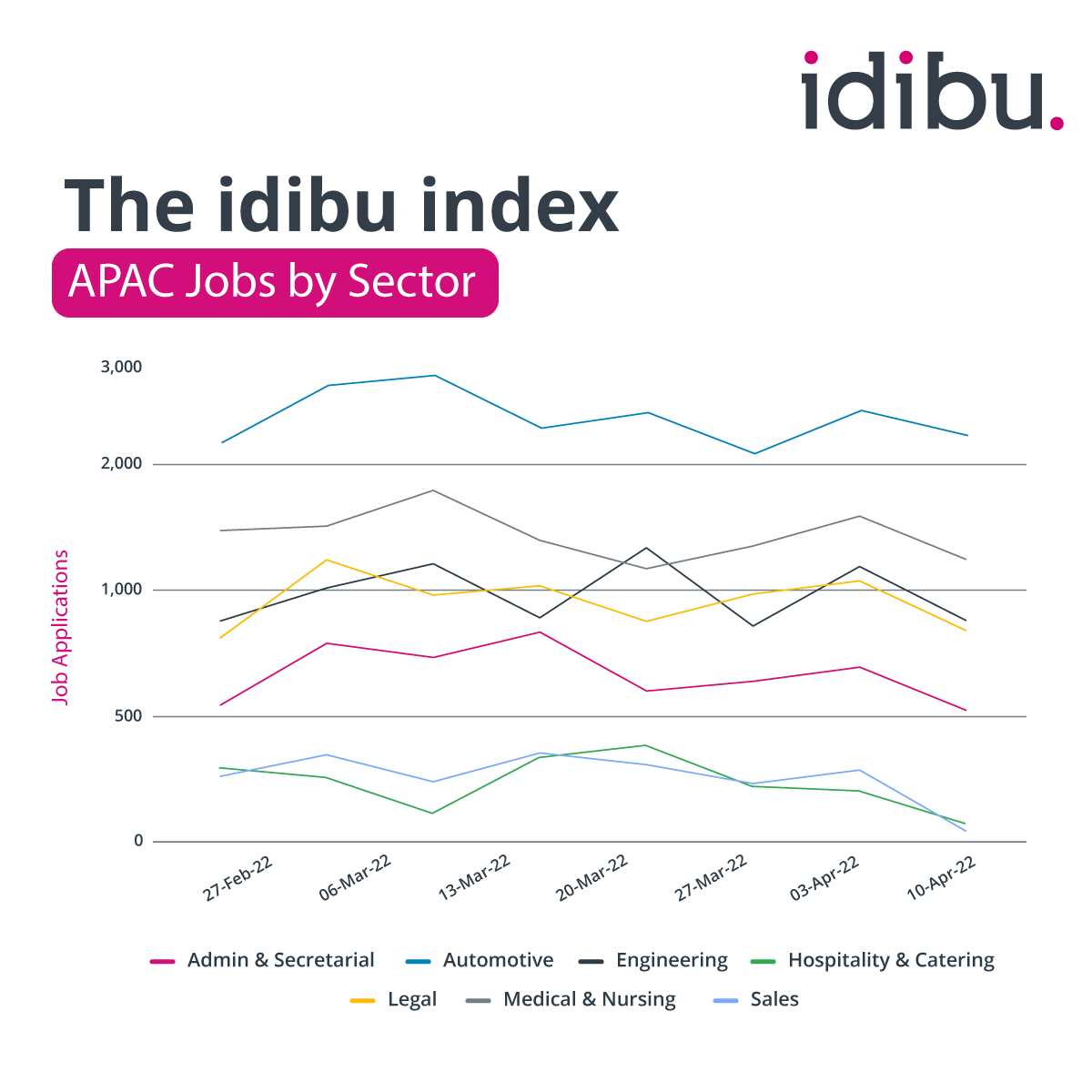 Surprising drops in job applications for Australia and New Zealand
Despite a rise in job posts, February's data on applications showed a contrast. An overall dip of -4.5% was reported across the region.
And when considered against 2019 figures for March, the drop is even more significant at -42.2% - somewhat unexpected following last month's escalation in the number of people applying for jobs.
Sectors with slightly different results included Health and Safety where applications more than tripled in week four of March, and in parallel with a surge in job posts for the sector too. Another stand-out peak was visible within the Telecomms sector mid-month, which then showed some signs of decline again towards the end.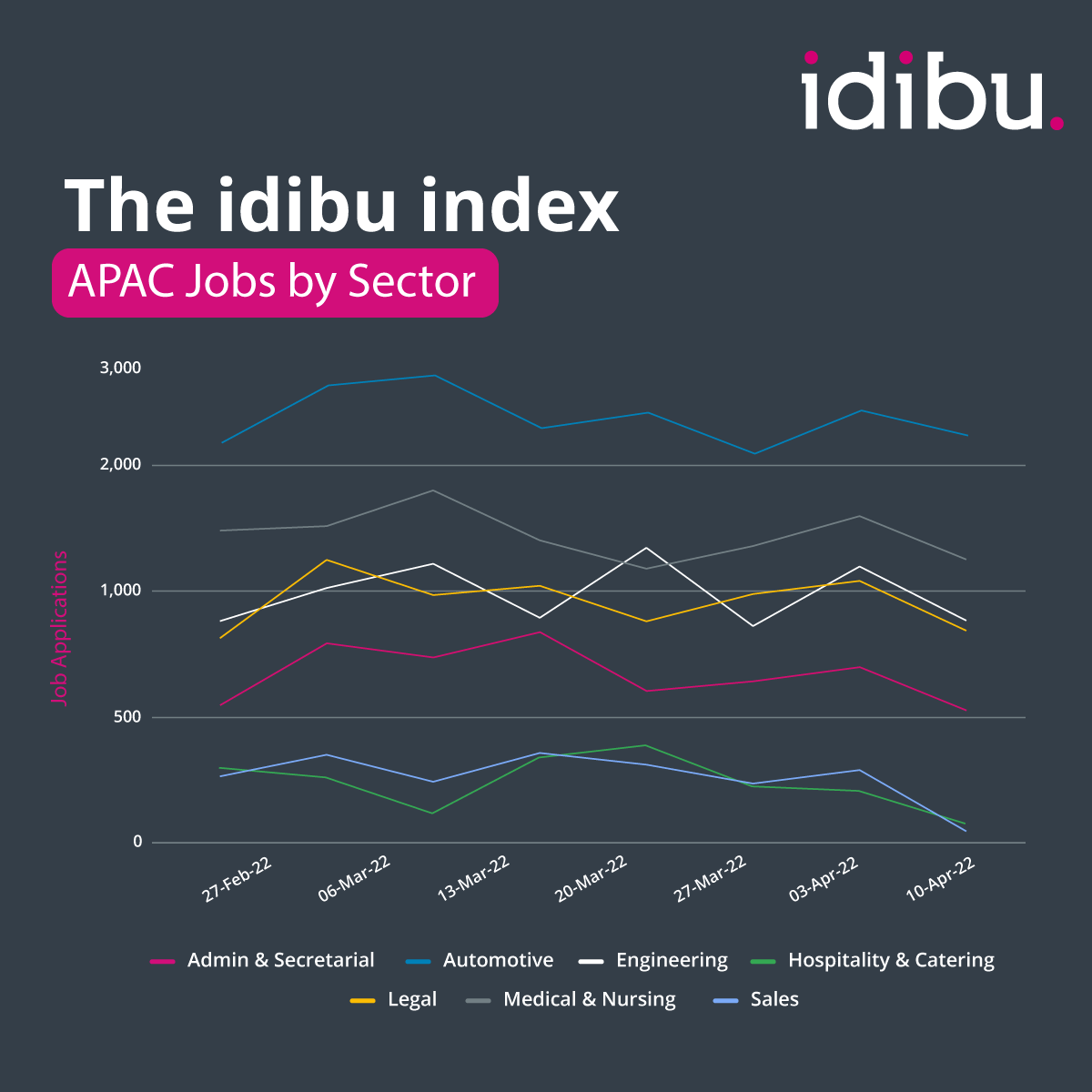 Job posts were lower than last month for most sectors
Other declines last month were noticed for job posts in sectors including Automotive and Admin & Secretarial. Unexpected downturns in job posting activity were seen in both Consultancy and Financial Services, which both decreased dramatically at the end of the month, after having experienced steady rises during the first three weeks.
Pharmaceuticals was one of the few sectors which saw numbers grow substantially during the last week of March.
A positive outlook for Australia and New Zealand jobs!
The great news for the region is that job ad posts overall were up across every state. Just a 1.5% increase for Western Australia, but with 8.1%, The Northern Territory experienced the greatest percentage change since last month.
Since 2021, the percentage increase in job posts across all states averages 26.7%, and an incredible 60.1% since 2019. A fantastic outlook for the region's economy…let's hope it continues on an upward curve!
Check in again in another few weeks when we'll share the latest details for April. We're already busy watching the progress and recording the stats!
If you'd like to chat about the latest recruitment trends in your region, why not get in touch? We already work with some of the best organisations across the APAC region, providing them with useful recruitment insights. We're also helping our clients recruit more efficiently with our market-leading multi-posting tech. It integrates with market-leading CRMs, and you can learn more or book a demo to see for yourself how it works.