May was a fairly predictable month in terms of recruitment statistics (at least in comparison with April which threw us some curveballs!). In fact, last month's idibu Index, figures showed dips which suggested the UK's recruitment activity could be slowing for the summer.
But has a fall in the number of jobs and applications continued into June? We've pulled together data from all roles posted and applied for through idibu to bring you the answer, plus more news on the latest recruitment market insights and trends.
Is a summer slump on the cards?
So, is recruitment activity reducing at the moment? In short…yes. We're talking relatively small numbers here but for the second month in a row this year, June's idibu Index revealed a notable and consistent reduction in the numbers of both UK jobs and applications.
We're assuming the downturn is due to us entering holiday periods, but we'll be keeping an eye on the developments over the coming weeks and months to bring you further info.
A new second place contender for sector applications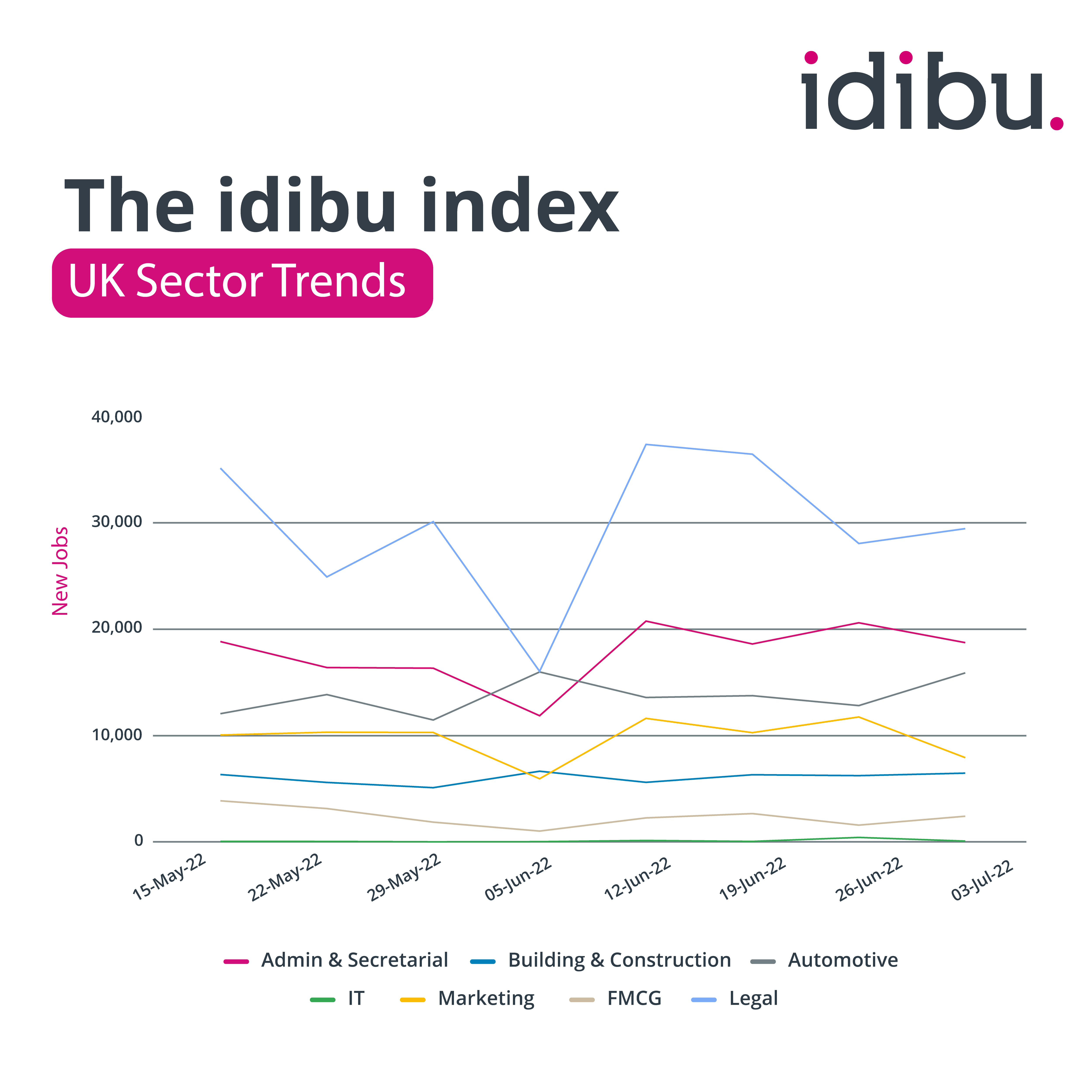 Looking at differences across sectors, while IT remains the specialism with the highest number of applications overall, the first week of June did show an unexpected dive in IT's application numbers. This anomaly was short lived though, and by the middle of June, applications not only rose, but soared to surpass figures recorded for the past few months.
We're also used to seeing Engineering faring well in terms of applications, but throughout June, Engineering was overtaken by Manufacturing & Production to take second place for the highest volume of applications after IT.
Other stand out sector stats included a plummet in the quantity of job posts for Legal. But in a similar vein as IT's application numbers, the sector redeemed itself with increases in the number of roles posted for the remainder of the month.
It was a similar story for Admin & Secretarial roles. In May, we noticed a downward curve in the number of job posts for this sector, and by week one of June, numbers had reached their lowest. Another brief decline, however, it was quickly followed with increases in the number of roles posted for the rest of the month.
A turn in events for region applications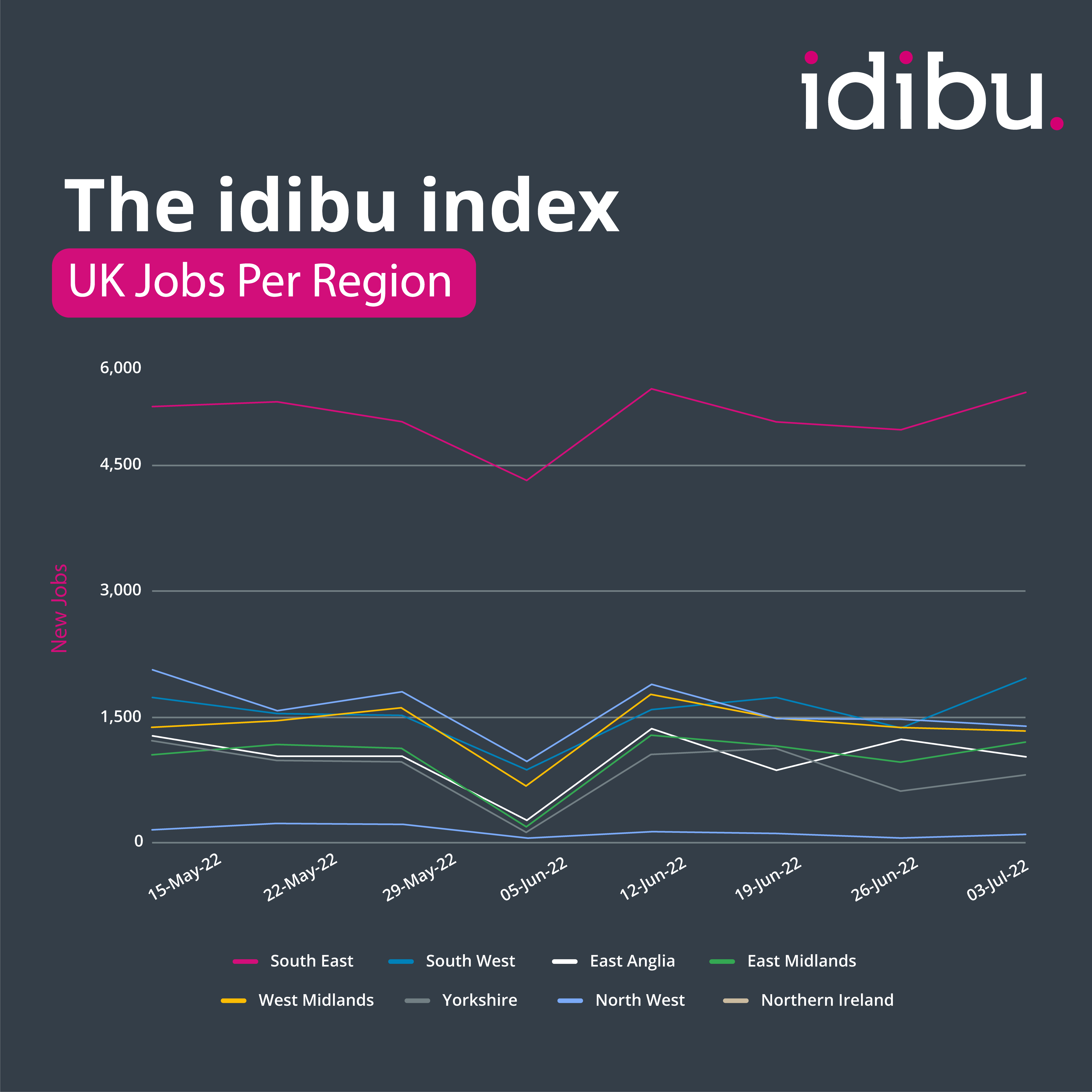 Looking at regions now, it's still the Southeast that tops the chart when it comes to applications. In fact, the Southeast is the only UK region showing an upward trend and steadily gaining more applications for the past few months.
June did however highlight a change in the bid for second place. The Northwest has been the second highest region for job applications for the majority of 2022, but it was the West Midlands that overtook during June.
The jury's out on UK contract vs perm roles
When we looked into job types June uncovered regional differences too. In the wake of the pandemic, and as businesses embark on business recovery activities, we may have expected to see some shifts in statistics for perm vs contract roles. But we've recorded no consistent changes throughout the first half of 2022. The fluctuating figures showed that contract roles this month were up in Wales, but down in Yorkshire and the Northeast. Statistics for temporary jobs were also down in Scotland, Yorkshire and the Northeast. But to balance it out, there were slight increases or no changes in contract and temp roles for all other UK regions.
Almost halfway through the year now, we're getting a good feel for recruitment activity in the UK for 2022. Join us next month when we'll share what the midway point reveals. We'll also have more on whether there really is a summer slump.
In the meantime, don't forget idibu's always here to help with your online recruiting. From further insights from our idibu Index, to blogs, webinars and a demo of our software for new users, stay in touch for more.