We've been highlighting an ongoing trend for the ANZ recruitment industry. Stats pulled from our idibu Index each month – that's the data collected from jobs and applications in idibu – have recently shown a dramatic increase in vacancies, but a decline in applications.
It's a pattern we're seeing not just in the Australia and New Zealand job market, but in other parts of the world too; presumably a knock-on effect of business recovery following the pandemic. While it's positive news for our growing economies, it does make the life of recruiters more challenging, and that's why it's important to ensure your candidate attraction strategy packs a punch.
For May, we were keen to see if this trend continued or whether it might be time for the tables to turn. Combining our own information with employment marketplace, SEEK's, here's our overview on what month five of 2022 uncovered for Australia and New Zealand jobs.
Good news and bad for the ANZ jobs market
Are job posts slowing? Are applications rising? Well, there's good news and bad. According to our idibu Index, the number of job ads being posted in ANZ continues to climb.
But May's data did reveal a rise in job applications too. In fact, it was respectable increase of almost 15% when compared to April.
The not so good news for recruiters though? The percentage rise in job ads posted was far higher than that of applications. We noted a 45% increase in the number of jobs ads posted for the fifth month of the year, so it seems job vacancies are still rapidly on the rise and far outweighing the number of live candidates.
When comparing last month's figures with May 2021, we also saw an increase of around 25%. Whilst you may expect an ongoing upward curve to level out at some point, our data shows no sign of the number of ANZ jobs starting to decline (or even level out) just yet.
Perhaps Australia's recently announced 0.5% interest rate increase will be a factor in dampening the country's employment? We'll be watching this in the coming months.
Strong sector stats for ANZ in May
Aligning perfectly with our job post stats, indicators for all sectors were up too. In contrast to April, which showed a mix of rises and dips in job ad volume across different industries, May indicated upturns for every area.
This meant turnarounds for Trades & Services, Hospitality & Tourism and Education & Training which all experienced drops in the number of job posts last month. And also accounting which was one sector to suffer a fall in jobs for April but was back up by 5.1% in May. Its year-on-year rise for May 2021-May 2022 was recorded as 26% - a healthy upsurge on even its strong April 2021-April 2022 increase of 19.1%.
Retail was responsible for both the largest year-on-year and month-on-month increase in job ad posts, of 56.5% and 10.6% respectively. Second and third places for the biggest annual percentage increases were Education & Training (44.9%) and Hospitality and Tourism (43.2%). And for April-May 2022 increases, Hospitality & Tourism took second place (5.8%) and Accounting, third (5.1%).
IT sat at the other end of the scale with the smallest increases of 11.1% year-on-year and 0.6% month-on-month. But what exciting news for ANZ that all sectors recorded experienced rises in May, rather than dips in job post activity.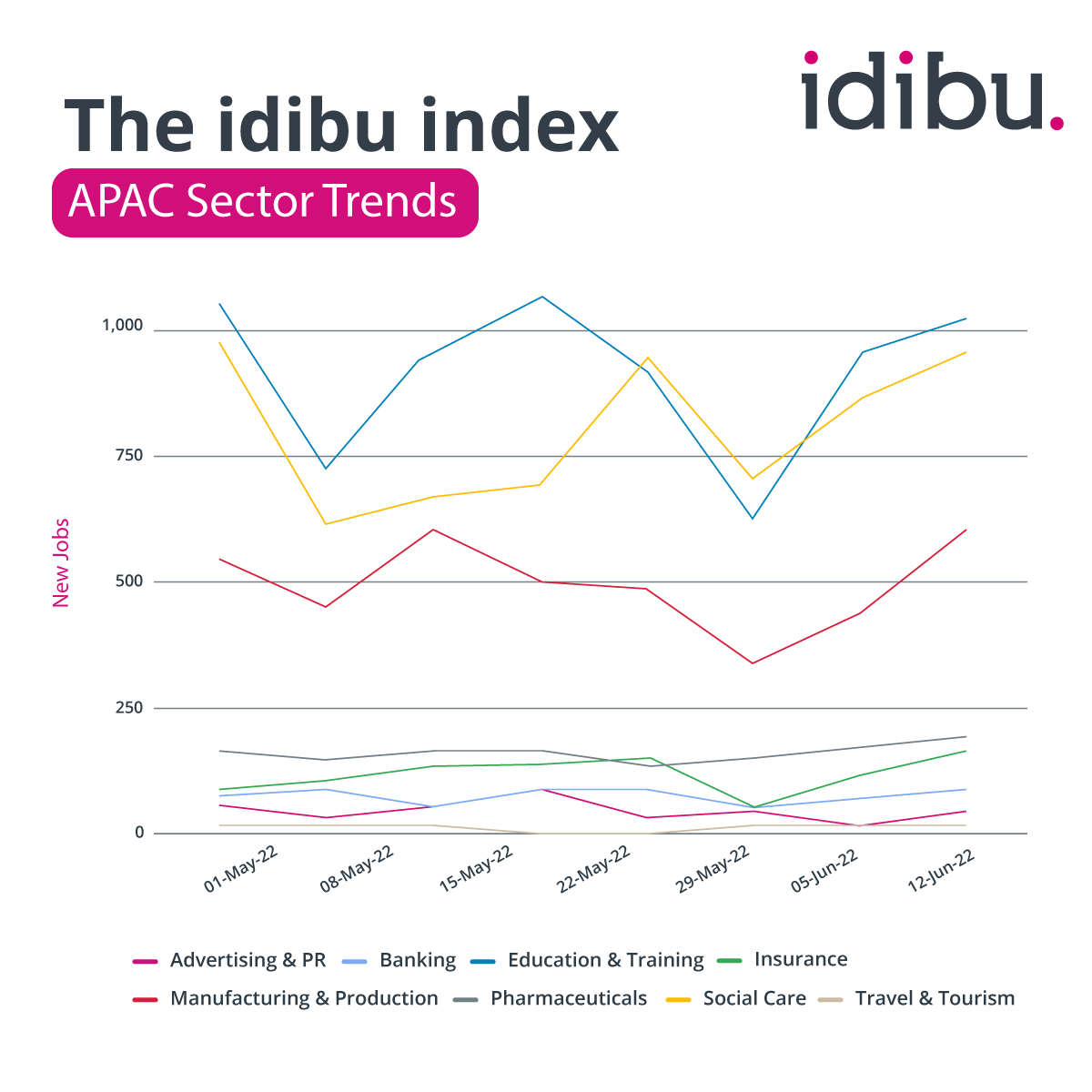 A great outlook for Australia and New Zealand
And the positive news doesn't end there for the ANZ region…
While candidates and applications are still undoubtedly in demand, our data from last month did bring to light that Australia and New Zealand are experiencing a higher number of applications per job post than both the UK and the United States.
Want to know more about how to attract more candidates, quicker? idibu could help. If you're not already using our market-leading multi-poster platform, why not book a demo? Or browse our blog for lots of tips on candidate attraction to keep you a step ahead of the competition in today's candidate-scarce market.