A few years ago a blog we did about talent attraction strategies proved immensely popular. Given that it's still a hot topic (and rightly so), I thought we'd make like Hollywood and reboot it!
Recruitment is getting ever more complex and whatever the job, that usually means building your skill-set and changing how you work. For recruiters, this means working around the candidates, and the first thing to do is start thinking like a marketer (more of this later) and looking at your current tech setup to see if it's fit for purpose.
UNDERSTAND YOUR TARGET MARKET This first step is based on understanding your target market. Where is the talent? What attracts them in the first place? What makes my offer stand out from all the others in this super competitive marketplace? How can I make it easy for candidates to apply and communicate? Asking and answering these questions is to think more like a marketer and helps you locate and attract the right people.
Finding the talent itself isn't as easy as it used to be: Teachers don't just read TES to find their next role. IT developers don't just use JobServe to find their next contract. Sales professionals are not waiting on LinkedIn for their next opportunity. We're seeing a significant fragmentation of sources, so instead of using one or two channels, you need to find out where your target market is and cover all bases.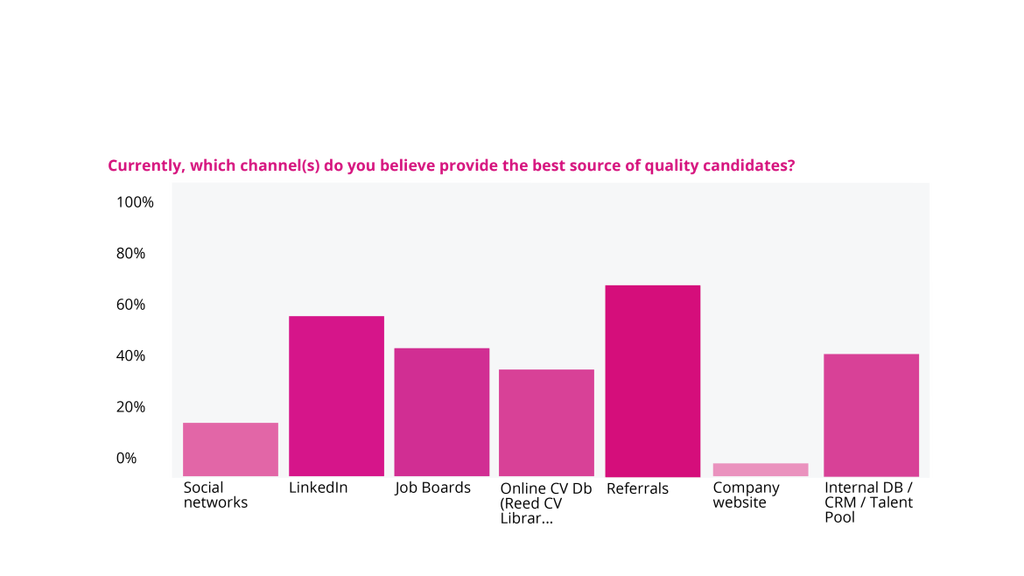 Over the coming years the landscape could be even more complex. A recent survey we did shows recruiters believe social media and their own website will increase in importance. This requires additional skill-sets such as content marketing, landing page testing as well as an open mind, as the social networks we know and use today may well be surpassed by others, such as Snapchat and WhatsApp or ones yet to become popular.
The foundation of choosing the most appropriate marketing channel and employer branding message is to research the candidate's needs and desires. To understand what they really want and to segment them by behaviours and interests, not just sector, skill and location. Finally, by positioning your offer so it is attractive, insightful and truthful to the candidate – remember, this isn't just about putting bums on seats but bringing in productive and impactful talent.

A great place to start is by understanding every aspect of your candidate experience. Become your candidates and live and breathe your application process for yourself. Candidates are looking for efficiency and simplicity, after all, you're not the only employer in the market. They will want to know about your organisation's ethos, career development, and, of course, the physical work environment. Does your attraction strategy tick all their boxes? Some other things to consider…
VISUAL IMPACT Don't stop being creative. Give your candidates a positive visual experience and you will have their attention. Blank expressions means it's time to speak to an employer brand specialist immediately. Excellent branding and a high visual impact will significantly increase your chances of creating the optimal experience for your potential candidates.
TECHNOLOGY Some technology can seem rigid and might not give you the flexibility and automated assistance you need to scale your efforts. Technology plays a crucial role in attracting the right candidates so check you have the proper tools in your arsenal to engage with the people you need? Whether it's a champion applicant tracking system, a slick job posting tool, or a CV search facility that saves considerable time, money and effort. Having the proper technology to source, attract and track candidates will make the difference between winning and losing in the candidate attraction battle!
SOCIAL MEDIA Your future talent pool is social, engage with them, talk to them, show them how social you are too. Social recruitment is a two way channel, particularly as candidates use social media to investigate prospective employers. Organisations should ensure that all content displayed on corporate social media is informative, concise and professional.
Having a clear understanding of what different social networks are available to you is also essential as not all social channels serve as an effective recruitment channel. Make sure you do your research and remember, instant connections are key.
VIDEO INTERVIEWING Save time and resources, optimise your candidate experience, improve your screening process, source perfectly-matched candidates, and reduce the time-to-hire! Just a few of the key benefits of integrating video interviewing into your candidate attraction strategy, and it's one of the fastest growing technological adoptions in the recruitment industry in 2015.
EVALUATE EVERYTHING What worked? What didn't? What's your cost per hire? Time to hire? What did you take from your last recruitment drive? Knowing where you started and comparing to where you've ended will add an extra, essential element to your attraction strategy.
People are the lifeblood of every business and winning the fight for talent will mean the difference between success and failure for a company. The results from a 360-degree approach will give you a clearer understanding when it comes to attracting the right candidates.
You can get our whitepaper on the Changing Face of Recruitment by clicking here